$120 000 000
IN APPRAISED VALUES

250,000+
ITEMS APPRAISED

Trust your appraisal needs to an expert in the industry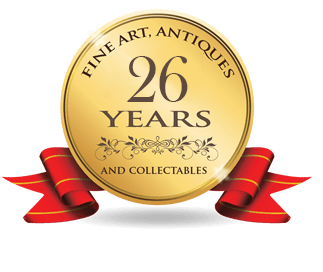 "Fine art is that in which the hand, the head, and the heart of man go together."
— John Ruskin
ABOUT LISA:

– ABOUT LISA M. BARNES
Lisa Barnes is a seasoned professional with 26 years experience as a professional art appraiser and an expert assisting insurance companies, attorneys, estate planners, wealth advisories and banks, as well as providing philanthropic services for new and aspiring collectors.

– What to expect on an appraisal?
Prior to my inspection at your home or business, client shall compile and copy all records – sales receipts, provenance and other related materials, catalogs, and letters. We will review them with you prior to inspection.

– Is a hands-on appraisal required?
The short answer is "No." However, the primary reason for an appraiser to personally inspect a property is to gather information about the characteristics of the property that are relevant to this value. (In general, these are referred to as relevant property characteristics and consist of quality characteristics as well as value-relevant attributes of the property.)

READ MORE ABOUT APPRAISALS →
PERFORMING FINE ART APPRAISALS FOR:

Private Collectors
Museums
Attorneys
Banks & Trust Officers
Insurance Companies
Universities
And Much More!
Why we're passionate about fine art…

Ms. Barnes' comprehensive education includes attending Harvard University, Oxford University, The Louvre, The Jeu de Paume in Paris, and the British Institute in Florence Italy. In addition, Ms. Barnes has diplomas in appraisal studies from Sotheby's, Christie's, and the New Academy of Art – all located in London. She has attended appraisal study courses at NYU and the Smithsonian. She is also a graduate of Southeastern School of Auctioneering Memberships Foresnic Expert Witness Association Pro Legal.

How is value determined?

An appraiser uses a variety of tools: reference works, online electronic databases, and historical documents; and may consult with additional specialists in the field. Based on the analysis of the research, the appraiser produces an appraisal report detailing the appropriate valuation of your personal property.

When should I get an appraisal?

It is best to get an appraisal before you need one. You will need an appraisal for: – Donations and gifts – Determining your net worth – Division of property – Informed buying – Estate planning – Obtaining insurance

Is an appraisal a legal document?

Yes! An appraisal by a qualified appraiser can act as a legal document in insurance settlements, divorces, estate proceedings and other matters involving personal property.
REQUEST AN APPRAISAL
Fill out the form below to receive a confidential initial consultation.
PUBLICATIONS
Lisa Barnes was interviewed for the March issue of Lawyer Monthly. Lisa Barnes discusses her…

How amazing is it when a notable 19th Century still life becomes the discovery Of…

In the shadowy world of modern thievery, the cachet in loot – the next best…

What's it like to feel from the beginning that you've picked a winner? When determining…